Rigby & Peller: Queen's bra fitter loses royal warrant over tell-all book
Sherri Guerrero | January 12, 2018, 12:20
Rigby & Peller: Queen's bra fitter loses royal warrant over tell-all book
June Kenton, the former owner of the lingerie company Rigby & Peller, lost the company its royal approval after she wrote a tell-all autobiography, Storm in a D-Cup.
Rigby & Peller said: "The royal household warrants committee has chose to cancel the royal warrant granted to Rigby & Peller and Mrs June Kenton".
Jill Kenton said her mother was already coping with the tragedy of her husband, Harold, who is suffering from dementia, and this had been further blow.
"I've been honourable throughout my life - it's unbelievable they don't like the book, there's nothing in it that they could remotely be upset about. I have never, ever spoken about what I do there with her, or the Queen Mother, or Princess Margaret", Kenton said in a statement, per the BBC.
The brand was founded in 1939 by Gita Peller - a Jewish Hungarian refugee who settled in London - and English corsetiere Bertha Rigby with their first shop in South Molton Street in London's West End.
In her tell-all book, Kenton wrote about fitting bras for a semi-naked Queen, who had granted the company a sought-after royal warrant in 1960 under previous owners.
For more than half a century, Rigby & Peller has provided luxury underwear to Queen Elizabeth before losing its royal warrant in the wake of the release of a book that gives a private insight into the goings on.
Eighty-two-year-old June Kenton sold her majority stake in the company for £8million after paying £20,000 for it in 1982.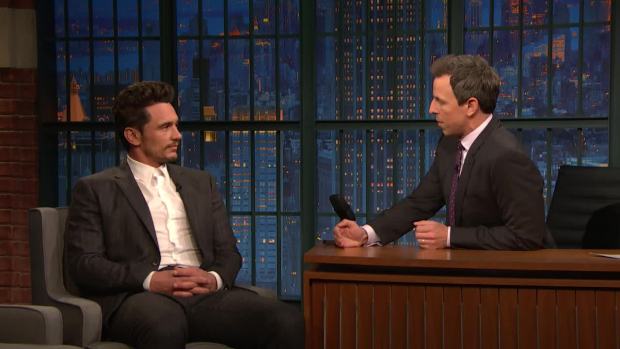 Late Night: James Franco Addresses Misconduct Allegations
"I think it's unbelievable. The book doesn't contain anything naughty", she told The Telegraph.
Yes, she really has made a boob of the whole thing, and now the company can no longer call itself the official lingerie supplier to the royal family.
She even sent Buckingham Palace a copy when the book was published previous year.
Buckingham Palace said it did not "comment on individual companies".
"However, the company will continue to provide an exemplary and discreet service to its clients".
June Kenton, 82, who is still on the board of the company, published her memoirs entitled "Storm in a D-Cup" past year but said there was "nothing" in it that should have caused offence to the royals. "I can't fight with Buckingham Palace and I wouldn't want to", she said.
The book detailed his time as a butler to Prince Charles and Princess Diana at Highgrove House in Gloucestershire and his move to Diana's staff after their divorce.